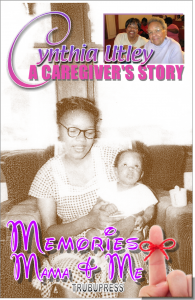 NEO, it has just struck me that when I was my mother's Caregiver for almost 7 years, I was actually acting in the capacity of a single parent. Now, after reading your post,Village Parenting @ Work, I understand that I was one of the single Mom's you showed much love and guidance to through telephone and email counseling.
Although my mother of course wasn't a child, she was dependent on me as if I had given birth to her. Her being diagnosed with Alzheimer's had propelled me into the role of single parent. This revelation, the result of reading your  post, has given me an even deeper understanding of just how magnificent a human being you are and how supernatural your compassion for your fellowman and fellow-woman is.
In a sense, my Mama became one of your spiritually adopted daughters, as you guided and counseled me during the last few years of her life. Caregiving was at times challenging for me because, in never having given birth to any children, I was new at not only now parenting, but at my child actually being my mother. Wow! Thank you for in a sense having co-parented with me through countless phone calls and emails.
I remain one of the ones forever blessed by your capacity to care. I also thank you on behalf of and in memory of my beloved Mama. You are undoubtedly the kind of man a single Mother dreams about having as a friend and confidant, especially if she is struggling to raise her child or children alone. What you are doing for this mother and her children is beyond beautiful, it is so powerful that it makes me wish that somehow you could be cloned and your love and compassion be shared across this globe. Neo, you are such a necessary human being. God Bless you. -CYNTHIA
MY REPLY: The selfless dedication you showed leaving your job to take care of your mother in her final years of life was the most amazing act of love I have ever been blessed to witness. I stumbled upon you in your time of need and all I did was follow the light of God that was already showing through you. I appreciate the kindness of your words, but it is you at whom I continue to marvel even after the passing of your mother. She was blessed by the care of an angel even before her journey to Heaven. -NEO
EDITORS NOTE: I have been honored to work with Cynthia in chronicling her time as a caregiver as a digest to be released this year by TrubuPRESS. The upcoming book, Memories, Mama, & Me is a spiritual and informative testimony to the joys, pains, and struggles that every caregiver goes through but in a deeply personal detail that will stir the conscience of those who appreciate them, but never really understand the strength that these first responders of later years must endure. Make it your stocking stuffer for a great winter read.