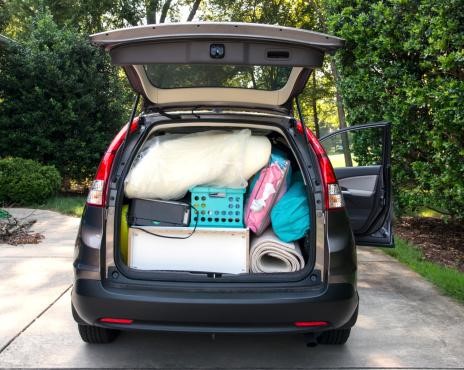 Today was bittersweet in quite a few ways. I had the privilege of participating in dropping off a young lady to college. Her mother started working with me well over a year ago. I recognized that she was under tremendous stress from her girls. Two of them were still at home and very much affected by the amount of time she had to be away in order to provide.
Making the decision to intervene was not an easy one. I didn't have much time for even myself and it had been very difficult for me as a man coming through a divorce years ago from a spouse who used my love of being a father against me in every horrible way imaginable. It has always been heartbreaking for me to be able to share myself with others who seem to appreciate my efforts when I had hoped to be able to continue to do for my own. But, then again, that is what faith is for.
All I know is that, one day, in a meeting, I asked her if she minded if I had a word with the girls. She proceeded to tell me how hard headed they were, and that they never listened, and that she just didn't want me to waste my time and be disappointed because they had learned to never count on a man to keep his word on anything. Living in a town and in an age where their friends were dropping out of school and announcing a new pregnancy each month, I took the girls to lunch one day. That day became a whirlwind year in which I was asked to school functions, helped with homework, asked to meet prom dates, and just listened to hours of what happened in their day, and being shown the latest dances.
I also scolded, chastised, and got in the face of these young ladies in a way that their mother thought they were way too old to ever accept, given that the family itself had gone generations without a strong male presence. Even their mother had to accept my methods with a leap of faith. When she would slip into allowing things that the girls knew I thought was wrong, they would actually begin to correct themselves. The majority of my interactions was by phone and computer with me coming to town as I had opportunities and allowing them to visit when I was home.
Grades improved enough that the newest graduate got a scholarship and asked if I would be available to accompany her to the college. I took the time off today and I went. Funny thing is, over the past few weeks, as she was preparing to go, every time I turned around, we battled over things she needed to do in order to keep focused. I must have made her cry two or three times but each time I stood my ground she quickly got over it. I got the feeling that I was being tested.
Before I left her today she hugged me and said "Thanks for being our dad". It is a very emotional thing for me because so much of what any parent does seems thankless for so long. It's not easy for me knowing what I know. A lot of what I represent, most women today have never experienced because they have never had it for themselves. And so it is easy to think you need to fight a strong man who don't need you to finish raising him.
Mine is a dying breed. I know because you keep telling me. I am an old skool father because a man was in my life to raise me. I am thankful for this young lady's mother and the other mothers who have listened to their spirits and allowed me help with their children. Many times I am told that if they knew the things that they learned from watching what I did, they probably would have either picked different fathers or would have been able to keep the man that they ran off. Even I don't know if I will ever be good enough to make a relationship work with a woman today. But I do know that as long as I can reach a child and pay forward what I was given, maybe I can prepare them to do better than what we have done to their lives. Today was a good day after all. -Neo Blaqness