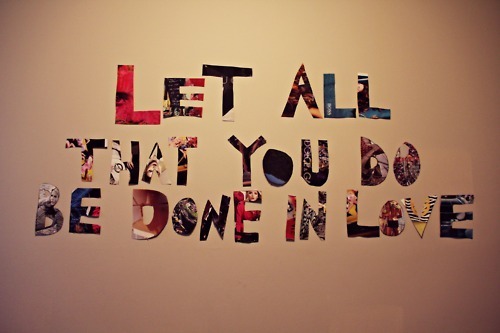 A lot of people confuse the feeling of love and the doing of love. But if you let life teach you, it eventually shows you the difference. We are really spoiled by modern conveniences and so we are easily offended when we don't hear from someone. And yet there was a time when men traveled many miles and months away from home just to make enough money to keep their family fed. That is not ancient history. Just look at the many Latinos who send money back to their country of origin even today.
You can say what you will about the politics of "illegal immigration" but for a man to cross a barren land and risk prison to come here and work for little or nothing from people who will just as soon turn them in if they complain- that is the doing of love. It happens everyday all over the world with migrant workers being paid slave wages so we can buy cheap products at American retailers. Do you think these people feel like they are loved everyday?
And yet with what little they make, we laugh at how they pile into one apartment so they can send the majority of their pay back home while we will see a whole family of us walking in the hot sun and pass them up in our air conditioned SUV driving with empty seats. I grew up seeing the doing of love because the few who had cars in my hood picked you up if they saw you walking home with groceries and they didn't have to be "in love" with you to do it.
Times have not changed. Only the hearts of man. For even in this time there are places that still understand the doing of love. When I became a father of twins and my (then) wife was committed to breast feeding, I saw the doing of love first hand as the twins tag teamed her day and night- the weariness on her face and yet she would roll over without a single huff or complaint after finally getting one settled and the other would wake up to eat.
The warm fuzzies is probably what made the babies but sleep deprivation does not give you a feeling of love. And yet love remained in the doing. It was that doing of love that inspired me to wake up with her to bottle supplement one while she fed the other. These are the points of love that young people miss today because they think it is all about satisfying their feelings. They don't know all the feelings parents and grandparents before them had to sacrifice in order to remain committed to the doing of love.
Now everyone feels entitled. To all of someone's time, attention, and to be wined and dined as though love is absent without those things. And yet these things have only increased the divorce rate compared to our elders who worked longer for less but cherished the quality of moments life would give to be together over and above the things they could never afford. Back then the true doing of love was in knowing your priorities. Today it seems we strive to be so much in love with ourselves that we drive everywhere with our face in the mirror complaining that someone needs to fix the bumpy road and clueless that those bumps are actually the people we are running over. Take a moment to today and put your foot on the brakes, wind down the window, smell the fresh air, and notice. Just watch and notice, the doing of love all around you. -Neo Blaqness